Hi friends, we know very well about the Tally ERP9 software. With the help of Tally ERP9 software you will be able to make day to day accounting entries in accounting vouchers as well as also maintain your stock register with the help of inventory vouchers. Both type of vouchers effects on current accounting of active company. Most of the time person ask to us what is the Credit Limit in Tally ERP9 or how could you set Credit Limit in ERP9?
Must Read: Important Shortcut Keys of Tally
Before discussing about the Credit Limit we know that ERP stands for Enterprises Resource Planning which is the advance version of Tally 9. Any registered users of Tally ERP9 software will get all advance features in daily routine official jobs.
What is the Credit Limit in Tally ERP9?
Credit Limit means the monetary limit which is set on any party account for selling or buying and goods for trading. Credit Limit is set either on any sundry debtor or creditor ledger account during the financial year. If you set credit limit for any party account and your bill amount is exceed of Credit Limit then you will be not able to store that kind of voucher and you will get a notification message window on your Tally ERP9 screen.
How to Set Credit Limit in Tally ERP9?
You can easily set Credit Limit for any ledger accounts which exists in the Sundry Debtors or Creditor group at any time in Tally.ERP9. Mostly Credit Limit is set specially for Debtors ledger accounts. It is very useful feature in Tally.ERP9 because you will get notification message during the entering sales voucher entry for those Debtors who wants to take goods on credit most of the time and amount is much higher. If you set Credit Limit then you will be alert for those parties. Now, let's have a look how to set Credit Limit in ERP9 software.
Step 1: Active the company in which you want to Turn on Credit Limit feature in Tally ERP9.
Step 2: Press F11 function key and then either click on the Accounting Features option or you can also press F1 to open Accounting Features window in Tally ERP9.
Step 3: In Accounting Features window turn on Set Maintain Budgets and Controls option to "Yes" and save it by pressing enter key or for quick save press Ctrl + A shortcut key combination.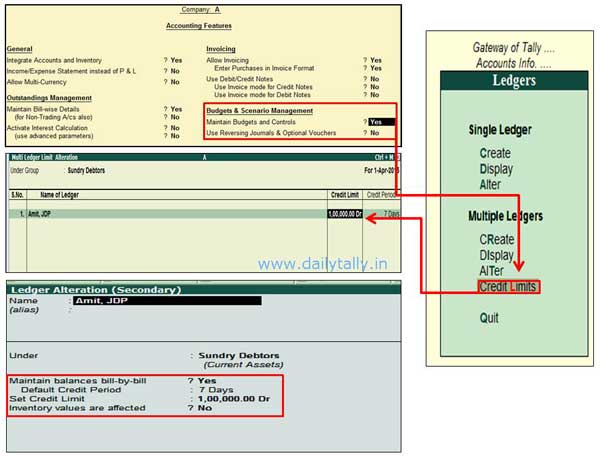 Step 4: Create one or more ledger account or Alter any existing ledger account from GOT > Accounts Info > Ledgers > Create / Alter which exist under Sundry Debtors or Sundry Creditor group in which you want to set Credit Limit in Tally ERP9  or, you can also set Credit Limit from GOT > Accounts Info > Ledgers > Credit Limits option which exist in the Multiple Ledgers category. After setting the Credit Limit on one or more ledger accounts press enter to save.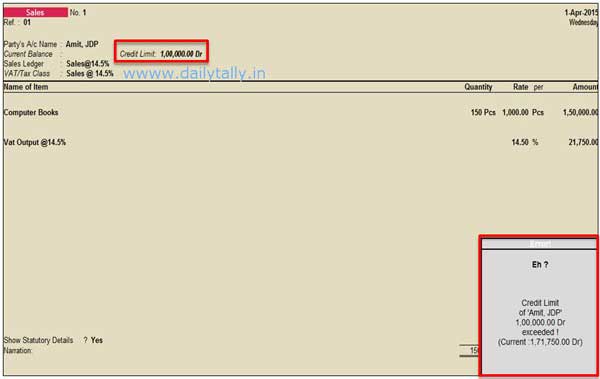 Must Read: How to Use Vat in Purchases Import and Sales Export in Tally
Step 5: Now, make entry in the Purchase or Sales vouchers in Tally ERP9, if your bill amount is exceed the credit limit then Tally ERP9 shown an error message that amount is exceeding the credit limit on your computer screen. You will not able to save the voucher which credit limit is exceed so, either you have to modify or credit limit amount of ledger account or you can also modify the invoice value.
I hope you like this article, if you like this article then give your important suggestions in the comment box and also share your knowledge with others. Thanks to all.