As you know very that three months have passed since GST has been introduced in the country. On behalf of the Government, the discounted sale on the goods (Pre-GST) for the shoppers by putting stickers with the old maximum retail price (MRP) is also going to end from September 30.
Pre-GST Products with Old MRP to be Confiscated from October 1
As per the latest news packaged consumer goods on which displaying the old maximum retail price will be confiscated from the 1st October under the Goods and Services Tax (GST).
After successfully rolled out the GST, Food and Consumer Affairs Minister Mr. Ram Vilas Paswan had extended three month dispensation. This dispensation is applicable to all manufacturers and traders who are holding old stock till September 30.
Must Read: Multi Tax Rate under GST in Tally ERP9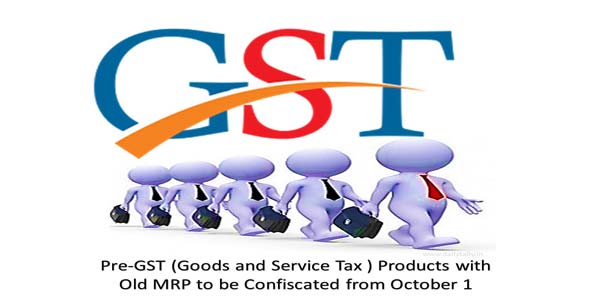 In other words, after the 30th September, old priced stocks stock can not be sold. If any shopkeeper have old price stock. If then still do that job then the stock can be seized. Now, old price stock confiscated from the October 1 as the latest Goods and Service tax rule and regulation.
Must Read: 12 Important Facts about GST – Goods and Service Tax
The Government had earlier allowed to all companies, retailers, traders to print, stamp and use old MRP stickers on the product packages. To preventing profiteering in the name of new MRP this guideline were issued. This guideline ensure that the companies, traders and retailers have a way to dealing with older stock which is also called pre-GST.
As per the guidelines the original MRP shall continue stamp or shown on the product and the revised or post-GST price not to be overwrite. After applying the GST on different product the priced has been changed. As per the GST rule and regulation, if any product price has increased then companies has to give the information. This information is given from an advertisement in the two newspapers. The have to clearly mention about the product New MRP and put a revised sticker on the packaging. That decision has been taken by the Government in the July month when GST rolled-out in the country.