Bank Reconciliation Statement is an important task which is done in each business, bank and other sectors. Periodically, the bank provides to its customer a "Bank Statement" each month showing all the transaction which have been made through its account up to a specified period.

The cashier or accountant will then check all the entries in the bank column of the Bank Book against those on the Bank Statement. Bank Reconciliation Statement (BRS) in Tally BRS is a way from which your can check your personal bank account balance with your cash at bank balance as per the company book.
How to prepare Reconciliation Statement (BRS) in Tally:
Any items which appear on the Bank statement but not in the Bank Book will be recorded in the Bank book. All the transaction which may need to be entered into the Bank book are given below:
Standing order is a payment made automatically by a bank on behalf of the account holder. When a business requires making regular payments like monthly salary, the business makes a standing order at the bank to pay salaries to its employees. When the business unit receives the bank statement it will check that salaries have been paid in accordance with standing orders and then makes the necessary entries in the Bank book.
Direct debit is another system that allows a creditor to withdraw money from the business bank account therefore, a direct debit is also a standing order with the exception that the receiver can alter the date or the amount of payment, for example electricity or telephone bills.
Credit transfer arises when a business receives into its bank accounts revenue from a variety of sources without direct knowledge of those for e.g. rent, interest etc.
Must Read: How to set voucher number manually in Tally ERP 9
Dishonoured cheques means to fail to pay a cheques when presented for payment.
Bank charges are the amounts charged to a customer by a bank, usually for a specific transaction e.g., collection bank balance is increased. Errors may be either calculation errors or errors due to failure to record items or recording them twice.
Un-presented Cheques: Those cheque that have been issued, but not yet cleared by the bank.
Un-credited Cheques: Are those that have been deposited, but not yet credited by the bank.
So, dear Friends, today we talk about How to use Automatic Bank Reconciliation facility in Tally. It is a form on which one may compare a personal record of transactions on a bank account with the bank's record of the same.
One uses a bank reconciliation statement to reconcile accounts and identify errors or omissions in records. Bank reconciliation, it is a process which explain the main difference between the bank balance shown in company bank statement, as supplied by the bank, and the corresponding amount shown in the organization's own accounting records at a particular point in time.
If you want to use bank reconciliation feature in tally software in that case you have to take following steps:
GOT –> Display –> Accounts Book –> Select Bank Account –> Press F5 
(For cheques clearing date)
OR
GOT ->  Balance Sheet -> Current Assets -> Select Bank Accounts -> Select Name of Bank -> Ledger Monthly Summary -> Ledger Vouchers -> Press F5 Key -> Type Cheques clearing date -> Yes
To View or Print Bank Reconciliation Statement Report:
Press F5 again to view or print bank reconciliation statement -> Press Alt + P -> set following options "yes" in Printing Ledger box -> Enter.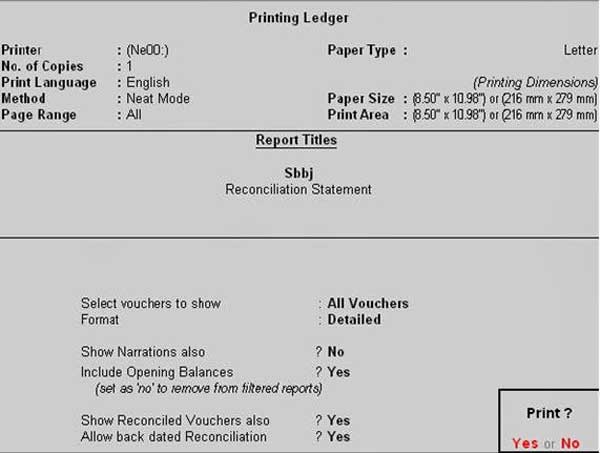 Must Read: How to Add or Insert the voucher in Tally ERP
I hope you like this post. Give your important suggestions in comment box regarding this post and share your knowledge with your friends, colleague, family members and others. Thanks.