Flipkart has announced his Annual Big Billion Day sales offer starts from 2-6 Oct 2016. During online shopping with Flipkart platform you can get lot of benefits on different products. As per watching festival session top most e-commerce company Flipkart organise and ready to launch his Flipkart Big Billion Day sales offer starts from 2-6 Oct 2016.
Must Read: Aadhaar mandatory for all Centre or State Government schemes
As per watching lot of problems during last year big billion day sales most of the customer does not take benefit of the sale on different products. But this year on Flipkart Big Billion Day sales offer starts from 2-6 Oct 2016 company has upgrade the technology due to which no users has to face any type of problem during excess the benefit of sale offers. There are billion of users get the benefit with amazing offer which is applicable on Mobiles, Laptops, Electronic equipment, Fashion, Home Appliance and many more.
All SBI debit and credit card users get extra instant 10% discount during the big billion day sales offer. If you still does not download Flipkart app on your mobile then hurry up and install this app on your phone. If you already download this app on your phone then immediately update this app to get right deal or offer. It is remembers to all those users the Flipkart Big Billion Day sales offers only for app users. During the sale offer you have to check that you have proper Internet or Wi-Fi connectivity on your mobile, otherwise you have to miss lot of deals.
Flipkart Big Billion Day sales offer starts from 2-6 Oct 2016
Now As per watching Navratri, Dussehra and Diwali session Flipkart gives accurate tag line of this big billion day sales offer "Ab Itne Main Itnaaaa Milega because India's Biggest Sale is back". You can not only get much better offers on different products but also top eight spenders also win a trip to "Thailand". You can get easily save interest with no additional cost on EMI, exchange old products with new products, get other exciting offers to save more money. This offer not only save your lot of money but also get lot of benefits. The Flipkart Big Billion Day sales offer starts from 2-6 Oct 2016 on most popular e-commerce website Flipkart.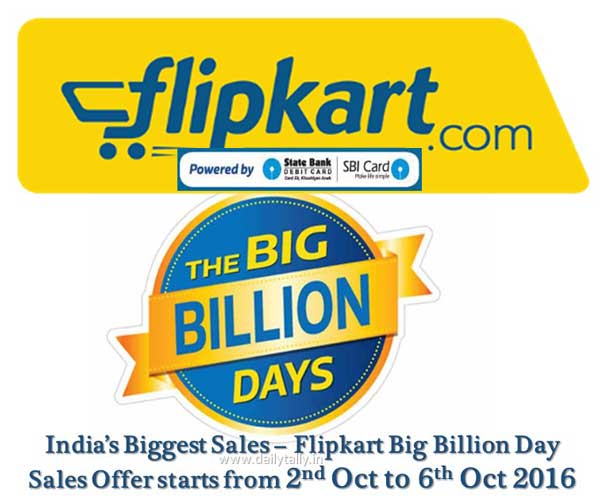 First Day – 2 Oct 2016
The first of of BBD (Big Billion Day) sales offers brings to lot of exciting offers on different products which is related with Lifestyles, TV and home appliances. If you plan to bring latest Lifestyles, TV or home appliances then it is the right time to full fill them. You can easily bring these items at your home with EMI or COD. If you have SBI debit or credit card holder then you can also get additional 10% discount during shopping on different products.
Second Day – 3 Oct 2016
The Second day bring exciting offers on mobiles and different mobile accessories. You can easily shop your dream mobiles at lower cost with EMI. There is no extra charge on EMI policy, so that you can find your dream products and get the enjoyment. You can bring mobiles, headphones, power banks, mobile flashes, SIM adaptors, pen drives and other different accessories during the second day big billion day sales offer.
Third Day – 4 Oct 2016
Third day of Big billion day sales offer provide you lot of offers on electronic products. You can bring latest technology required electronic products at your home which you plan from lot of time. You can easily bring laptops, computers, printer, mobiles, camera, TVs, smartwatches and many more electronic products during the third day of big billion day on Flipkart.
Fourth & Fifth Day – 5-6 Oct 2016
These last two day you can get benefit of offers on all on sales during Big Billion Day sales offer on Flipkart. If you missed out one or more items before three days during the sale then there is no need to worry. Now you can easily get them at your home at EMI without no extra cost policy, home delivery, get 10% discount offer during shopping from SBI credit or debit card and win a trip for Thailand also.
Must Read: How to split active company data in Tally ERP
These two days you can get all the offer on all categories which is related with lifestyle, electronic, home appliance, furniture, books, health, beauty, mobile, accessories and many more. Now the countdown has begin you have to prepare a wishlist of all those products which you want to bring at your home. You have to create your account on Flipkart, add the wishlist items, update your address, set SBI credit or debit card payment policy to ready to participate in the Flipkart Big Billion Day sales offer starts from 2-6 Oct 2016. Happy Shopping to all of you.