Hello friends, This is a easy and simple guide for make entry of Branch Transfer Outward and Inward in Tally. You know very well about the Tally software. Branch Transfer outward and inward is used to easily transfer stock from one location to another using Tally software.
Tally is an accounting cum inventory software which provide different accounting cum inventory features to use different features as per your need.
It's also provide different types of direct and indirect taxes like VAT, CST, TDS, TCS, SERVICE TAX, EXCISE and many more in statutory and taxation part. You know very well stock is an important part of our business, without proper maintain stock items you will not be able to maintain your accounts properly. Lot of time we need to transfer our stock items from one godown to another godown either in same state or any other state. After reading this article you will be able to use branch transfer outward and inward in Tally.
If you transfer any stock item within state in that case you have to make entry in "Stock Journal" (F7) voucher from one godown to another godown. But you face different problems when you want transfer your stock from one godown to another godown and both godowns are in different state. So, today I try to solve your problem how to make entry during "Branch Transfer Outward & Inward" in Tally or Tally.9 ERP software.
Must Read: How to use Bank Reconciliation Statement – BRS in Tally
How to make entry of Branch Transfer Outward and Inward in Tally:
If any organization having more than one branches, they can transfer his materials from one branch to another branch as per requirement. Inter branch transfer do not attract any tax, but proper accounting method is essential; and it's to be reported in VAT return.
Step 1: Create a new company or open an existing company.
Step 2: Turn on Vat facility from Press F11 (Company Features) -> F3 (Statutory & Taxation)-> Vat Applicable – Yes, then save all information.
Step 3: Create ledger a/c from Accounts Info -> Ledgers -> Create.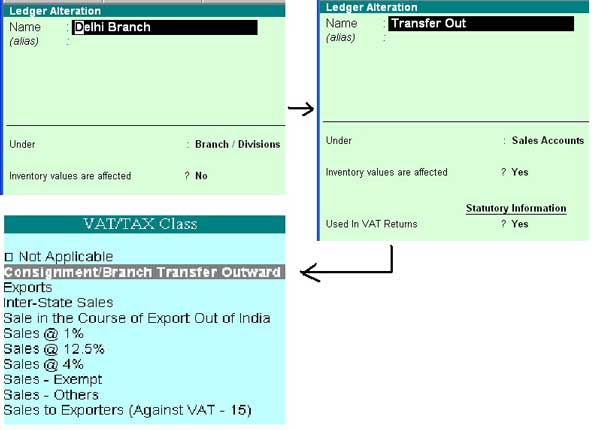 Step 4: Now open the voucher and make Transfer entry in sales voucher as following.

Must Read: Interstate Stock Transfer with Stock Journal Voucher in Tally
Note: In case of branch transfer there is no tax components at the time of transfer of goods from one branch to another branch. You have to select "F" form during transfer outward entry in sales voucher to transfer stock from interstate branch transfer. Branch Transfer Inward, It is similar to branch transfer outward. Only the difference is ledger, in case of inward the ledger will be transfer in under Purchase and Branch Transfer Inward category.
I hope you like this Branch Transfer Outward and Inward in Tally guide. Give your important suggestions in the comment box regarding this post. Thanks.