Scenarios Management is an important part in Tally accounting software. In this article will discuss and know how to use and create scenarios in tally. Scenarios in Tally very useful tool for for-casting expenses.

Dear Friends, Tally provides different accounting and inventory features that allow any user to maintain his company accounts effectively. Scenarios in tally is an important features which allows you to view the effects on current accounting.
Must Read: Distinction in Capital Expenditures and Revenue Expenditure
You know very well about the Tally software. At present time Tally is one only most popular accounting cum inventory software that handles the day to day all routine operations of any business unit very effectively. It is widely accepted by the different accounts for its user friendly nature.
How to create Scenarios in Tally:
Today we talk about an important feature of Tally which is called "Scenarios". After reading this article you will be able to create Scenarios Management in Tally. Before that you have to know what the meaning of the Scenario is?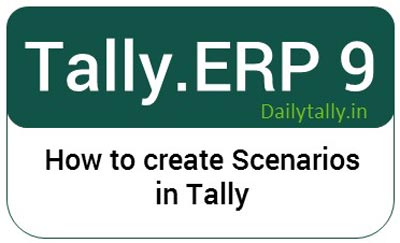 Definition of Scenario:
Scenario management is a management tool that enables different displays of accounts and inventory related information, by selectively including certain types of vouchers without affecting the source data. It is useful in generating provisional reports, where entries are not actually made in the main books. It is also a useful forecasting tool, you can forecast the expenses using provisional vouchers and include them in your reports.
The vouchers that are used in Scenario Management are:
1. Optional Vouchers
2. Memorandum Vouchers
3. Reversing Journals
You can create a number of scenarios each including and/or excluding one or more types of voucher entry. You have to take following steps to create scenario report in tally accounting software:
GOT (Gateway of Tally) > Click on the Accounting Info option > Now, click on the Scenario option > Click on the Create option to create the scenario in active company of Tally.
Give the name of scenario.
Include Actual – Yes (If you want to report actual value)
Include – select here all those voucher which balance affect you want to see in scenario report.
Exclude – If you don't want to see any voucher report in scenario, which you have use as a optional sing then select here.
To See Scenario Variance
Go to final A/c > Press ALT + C (Give the period and select scenario name here).
How to make entry in Post Dated voucher–
If you want to make any entry in postdated voucher then make an entry in the voucher then you have to press CTRL + T.
To View/Print Report of postdated voucher:
Click on the GOT > Display > Exception Report
Must Read: What is the Meaning and Format of Final Statements?
I hope you like this Scenarios in Tally post. Give your important suggestions in comment box regarding this post. Thanks.