Dear Friends, we know very well data is most important part of our business, we face a lot of problems when lost these data. So, today we discuss about how to easily recovery corrupted data in tally.
This type of problems faced by the lot of persons day-to-day regarding corrupted data in our tally accounting software, today you have to read this post, in which some conditions in tally accounting software data has been corrupted and how to easily recovery corrupted data in Tally, have look.
Tally is the most widely used accounting software in India, and data corruption is a common problem mainly caused due to power failure, unexpected system shut down, virus attacks, media corruption, OS corruption, or hard drive crashes, Since, Accounting data is very important for its users, Tally being the leading accounting software company of India incorporates many inbuilt protections to protect the data from getting corrupted, however data can still get corrupted and Tally provides easy options to recover it which you can use to easily recovery corrupted data in tally.
Although tally has provided many ways to protect you data but one way or other due to some human error or system failure we lost our data. We have to first see why data has got corrupted the ways to recover depends on reason it got corrupted. So first of all let's see different conditions in our data has been corrupted.
Must Read: Pay Online Self-Assessment Tax and Advance Tax
Why data gets corrupted?
While working on tally power goes off and UPS is unable to give you backup. Next time you would open tally the company in which you were working would get corrupted. The computer on which you re working is not operative and OS is not working properly. Somebody formatted it !!
You have taken so many backups by copying the tally folder in so many placed that you forgot which was to original one. You have taken a backup and when you try to restore it your data is washed out.
Solutions to easily recovery corrupted data in tally:
Solutions to these problems needs common sense rather than tally expertise. Lets understand some feature and working of tally 7.2 version.
Condition 1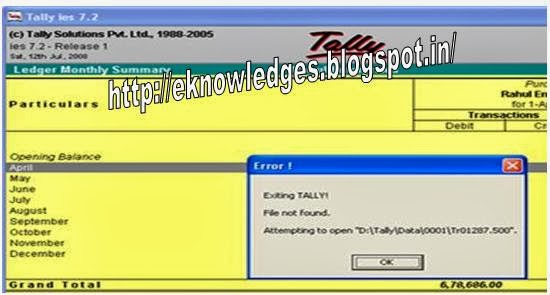 Usually when Tally data gets corrupted you are shown an error message similar to this:
"Exiting Tally,
File Damaged
File: 'C:/Tally/Data/0001/Tr01324.500'
Size;- 43136
Position; 42880
Char;-128 (Done 128)"
If you receive an error similar to above then there are very strong chances of recovering your data loosing only last few transaction entries. For recovery from such situations Tally provides an easy company rewriting option, which checks data files for valid entries and recreates the company profile with all the valid data it can recover. To use simply follow the instructions below, it is always better to make a backup of your Tally data folder before attempting any recovery process:
1. Start Tally -> then active Company Selection window on the screen.
2. Now use Ctrl + Alt + R key combination to launch the Company Rewrite utility.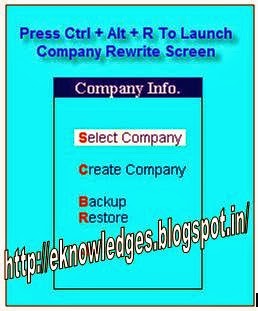 3. Select the corrupt company profile (usually the one you were working last) and press then press Enter key to start the rewrite process.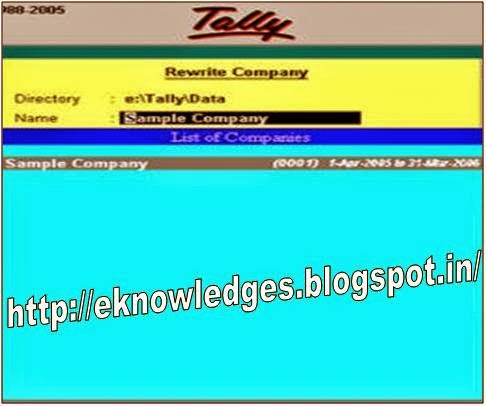 Note: From this method your problem have been solved in 90% cases of tally data corruption.
Condition 2
In second case when OS system is not working than to recover data you need computer skills and some common sense solutions can get you out of this problem If windows is not loading then you can try to boot the system in DOS mode. Copy all tally folders and data folders into D drive. If DOS mode is also not working then take out the HDD and connect it with other computer with os system and try to open it. If the disk is OK and without bad sectors then you would be able to open the tally folder. If still it not working then before formatting give it a try with some recovery software or ask your computer hardware expert to recover data folders from drive.
Must Read: Maintain bill wise detail for receivable and payable in Tally
Condition 3
The third case happens when people are running so many versions of tally and all versions work on different directories. More over they take backup by copying folders of data directory instead of taking backup from tally itself. In that case you too can get confused which one is latest and which folder is needed to be restored. In this case just remember the No. of your company in tally.
For example if your company number is 002 then go to search utility of windows and enter 002 in search box and begin search. You would see the list of folders. Now in see the locations of each folder and see the date of last modified or accessed. Choose the latest one and copy that folder in tally's current data directory. You would probably find the right one. One more method can be that you look for folder which has largest amount of data. Just go to each folder right-click on the name and select properties. Here you would find the total file size of that folder. The biggest folder would be the current folder.
Condition 4
The fourth case happens you have created so many companies and when you restore the data that current company is not in your older data. This can also happen when data backup you have taken is already corrupted. In this case there is no solutions except you find some other backup which you have taken fortunately and which is good as well. To do some once again you can use search utility and look out for files names as tbk500.001 or what you can do is just type tbk*.*. It would get you all the files on your computer.
Tips How to recovery corrupted data in tally:
Take day-to-day regular backup, make it a your habit when ever you have done enough work. The frequency of backup always depends on how much work you do one daily basis or how much work you can afford to do again.
Take backup on the basis of name of days or name of month & stored them in different folders as per day basis. If data is high then the backup destination can be like this d:tallybackupMonday or d:tallybackupTuesday and so on. In this way you would get seven backups and all backups cannot be corrupted. If data volume is low then backup can be taken as d:tallybackupJune if you can afford to do one months task in a single stretch.
There should be only one Tally version and one Tally folder. Too many versions and folders multiplies your work. If you are two versions then try to sum up work in latest version as soon as possible. There must be proper power backup while working on tally. In network environment is a must on all nodes where tally is working.
Must Read: Income tax return e filling benefits
I hope you like this recovery corrupted data in Tally guide from which you will be able to easily recovery corrupted data in Tally without any extra efforts. If feel any problem in this guide then please use comment box. Thanks to all.