Dear Friends, you know very well about the Income Tax. Income tax is charged each year by the government from any individuals or any taxpayers either any Company, Firm, HUF who earned income from different sources on different type of tax rate. So here is easy guide to file Online Income Tax Return.
You know very well about the Income Tax. Today we talk about an important topic how to File Online Income Tax Return (ITR): Income Tax Return for AY 2013-14 for Individuals? Here we write few simple steps from which you can easily file your online income tax return for the AY 2013-14 and FY 2012-13.
Steps to File Online Income Tax Return for Individuals:
Step 1: Download excel sheet of ITR1 of individual from https://incometaxindiaefiling.gov.in/  and download ITR1 excel sheet.
Step 2: Unzip the file the enable security option like this:
Security Warning  Some active content has been disabled. Click for more detail (Click Enable Content option) in MS Word 2007 and above versions.
Step 3: Fill all required information in four sheets 1. Income Detail 2. TDS 3. Tax paid and Verification 4. 80G
Step 4: Click on calculate tax button (This will automatically show tax amount)
Step 5: Now click on Validate button in each sheet
Step 6: Click on (XML) Generate button to prepare xml file.
Step 7: Open https://incometaxindiaefiling.gov.in/e-Filing/UserLogin/LoginHome.htm  
User ID: Type PAN Card Number, Password: Fill the password, Date of birth/Incorporation: Fill your date of birth in DD/MM/YYYY format >Now, Click on the Login button.
Step 8: Click Upload Return option & fill required information which is given below:
PAN Card No:  Fill your pan card no.
ITR Form Name: Select ITR-1 (In case of individual)
Assessment Year: Set assessment year 2013-14
Attach the XML file: Select generated xml format file of ITR1.
Do you want to digitally sign? : If you don't have digital sign then select option No, if you have digital sign then select option Yes.
Step 9: Click Submit button.
Step 10: Now download ITRV, take printout of this file take print and sign the ITR-V and send it by Ordinary Post OR Speed Post ONLY within a period of 120 days from the date of transmitting the data electronically, to the address as mentioned below. ITR-V sent by Registered Post or Courier will not be accepted. ITR-V shall not be received in any other office of the Income-tax Department or in any other manner.
Address
Income Tax Department – CPC,
Post Bag No – 1,
Electronic City Post Office,
Bangalore – 560100,
Karnataka
Must Read: Meaning of Tax and Types of Tax in India
The acknowledgement for receipt of the ITR-V at Income Tax Department – CPC, Bangalore, will be sent to your registered E-Mail ID.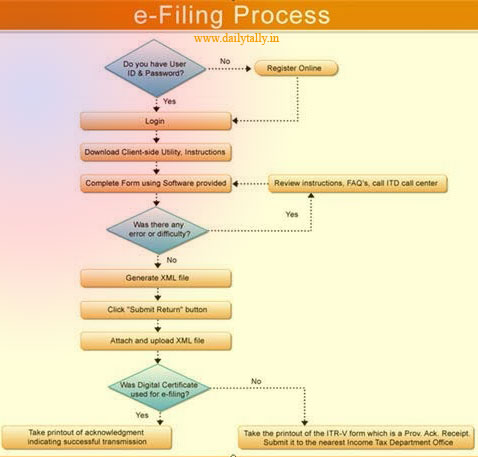 Note: The last date of submit online return is 31st July, 2013….. so hurry up…
Must Read: Pay online self assessment tax and advance tax
I hope you like this File Online Income Tax Return post. Give your important suggestions in comment box. Thanks.